Belgian d'Uccle Bantams

Booted Bantams
Barbu d'Uccle
In the US they are frequently referred to as Mille Fleur or Millies, in spite of the fact that Mille Fleur is only one of their color variants and it also appears in other breeds.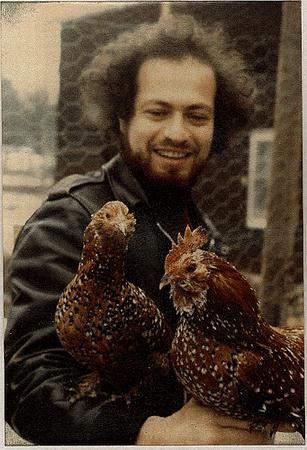 "Acorn" (right) and "Popcorn," a pair of Mille Fleur bantams
I got Acorn and Popcorn in 1979. They were the first purebred fowl I ever bought with breeding in mind. I found them at the first poultry show I ever went to and fell in love with Acorn the second I saw him.
Photo courtesy of Susan Loesser
One of the Belgian true bantams (meaning there is no standard-sized form), the bearded and booted Mille Fleur d'Uccle is one of the prettiest of fowl. The d'Uccles also occur in other color varieties, such as Porcelain, Black Mottled, Self Blue (self means solidly one color), and Blue Mille Fleur. They are single combed birds and the standard calls for vulture hocks, a disqualification in most breeds. (Vulture hocks are long stiff feathers protruding down and back from the hock joint. These can be better seen on my image of a Sultan male.)
The Mille Fleur pattern consists of a ground color of mahogany, with each feather marked with a crescent shaped bar of black and tipped with a V-shaped white spangle. The true coloring does not usually appear until the first adult molt. The Porcelains are patterned the same way, but the ground color is straw, and the barring blue with a white tip.
I found these birds to be so tame that it was often a problem to keep them from flying up on me when I didn't want to be wearing a few chickens! If I could only keep one breed of bantams, it would be these guys.
You might also want to visit my page on the closely related Sabelpoot bantam (I really don't understand the relationships among these small European booted, bearded and booted, and clean legged bantams).
---
Breed clubs:
Belgian d'Uccle & Booted Bantam Club
Karl F. Urshel
1048 New Lebanon Church Road
Reidsville, NC 27320
phone: 336-951-3309
e-mail: duccle@geocities.com
The Belgian Bantam Club
Graham & Sandra Holdsworth
Little Beck Off Savile Park Gardens
Halifax, HX1 2XL
England
phone/fax: 01422 367652
e-mail: SANGRA99@aol.com
The Belgian Bantam Club of Australia
Irene Hannan
Mountain View
Caparra, via Wingham
NSW, 2429, Australia
e-mail: channan@tpgi.com.au
ZOBK: Breeders Club for Rare True Belgium Bantams
The Netherlands
---
d"Uccle Links:
The rumpless version of the breed is the Belgian d'Everberg
De Nederlandse Sabelpootkriel is a Dutch page on d'Uccle bantams.
The Bantam Roost's page on bearded d'Uccles
Stop by Paul and Nancy's apartment and meet Tilly the Mille Fleur
Pierce County Bantam's d'Uccles
d'Uccles at Brushy Run Bantams
A page on Barbu d'Uccles from The Netherlands (in English)
---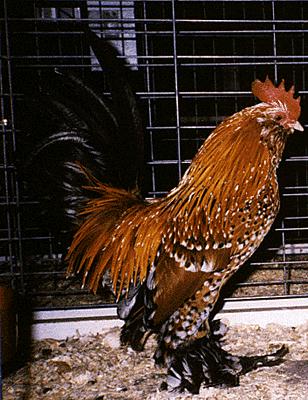 Mille Fleur male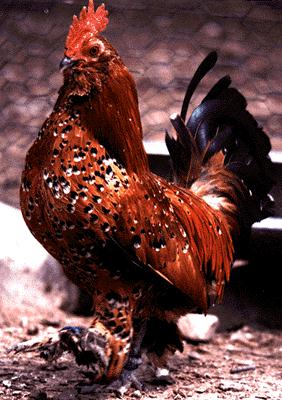 "Kernel," a Mille Fleur cock
Son of "Acorn" and "Popcorn"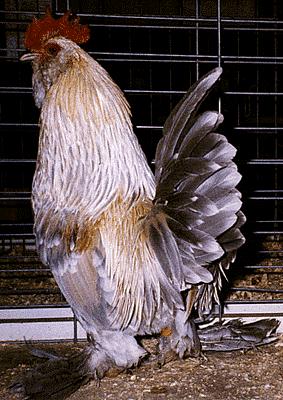 A Porcelain d'Uccle male

A Black Mottled d'Uccle female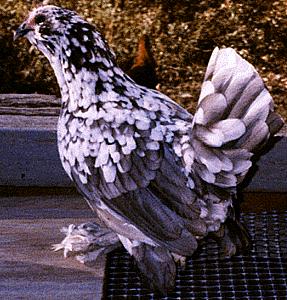 My Blue Mottled d'Uccle hen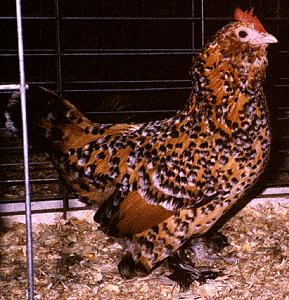 A Mille Fleur female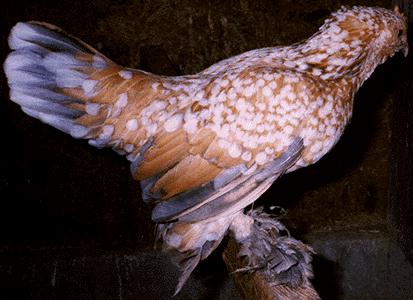 Here's "Blue Bonnet," my Blue/Buff d'Uccle hen
Sold to me as a "Blue Mille Fleur"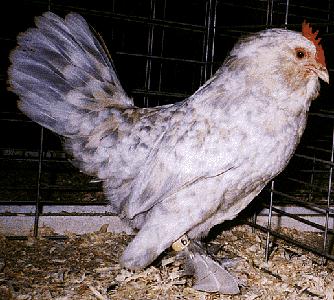 A Porcelain d'Uccle female
"YardMillie," a Mille fleur hen
She got her name because she absolutely refused to stay in a breeding pen so she ended up as a free-ranging bird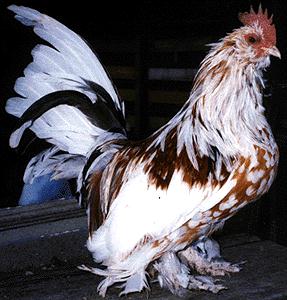 When I bought this rooster I was told he was a Golden Necked d'Uccle
---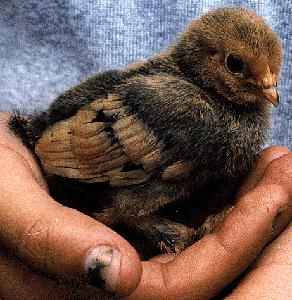 A five-day-old Mille Fleur chick
Photo courtesy of Karen Cohen
---
or


back to Poultry Page
---
All text ©FeatherSite unless otherwise credited; for graphics see note.

Direct questions and comments to Barry at featherside@cyborganic.net