Minorcas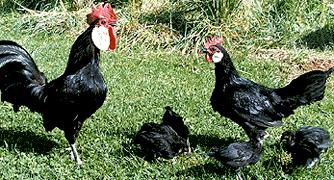 A very nice family group of Black Minorca bantams
Photo courtesy of Wilbert Hollinger
These birds are the largest and heaviest of the Mediterranean fowl. They are accepted in the APA's Standard in Black, Buff and White, and the Blacks and Whites come in both rose and single comb varieties. The Buff only appears as a single combed bird. The British Standard also recognises a Blue Minorca. The breed was developed in England from imported Spanish Castilian fowl.
Males can reach 9 pounds and the hens 7 1/2. Utility strains of the breed were excellent layers of large white eggs.
Minorcas also exist in bantam form (as you can see above).
---
Breed club:
The Minorca Club
c/o Rob Walker
7 Astley Orchard
Eastham, Tenbury Wells
Worcs WR15 8NR
England
phone: 01584 781440
---
Minorca Links:
Palm Beach County Poultry Fanciers Association's Minorca page
Feather Fanciers's article on the Minorca
---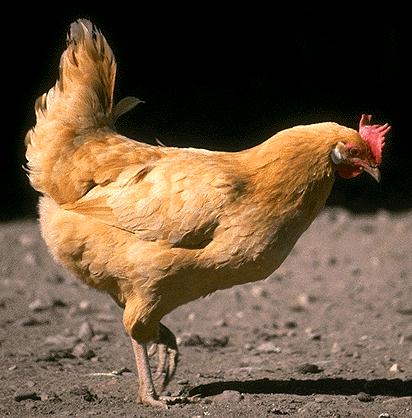 "Brianna," a Buff Minorca hen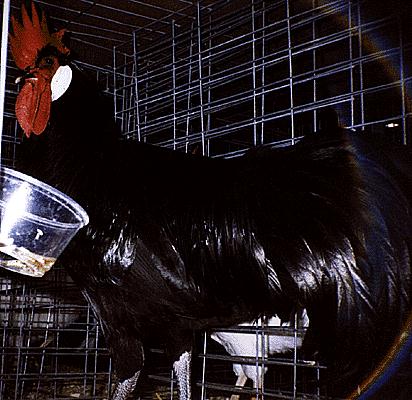 A Black Minorca rooster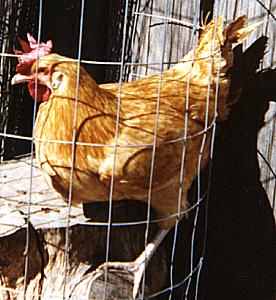 A Buff Minorca pullet
Photo courtesy of Gary lawrence
---
"Sophisticate," a Black Minorca chick
Photo courtesy of Darcie
---
or


back to Poultry Page
---
All text ©1998 FeatherSite unless otherwise credited; for graphics see note.

Direct questions and comments to Barry at featherside@cyborganic.net